The Stock Yards Village
Toronto, ON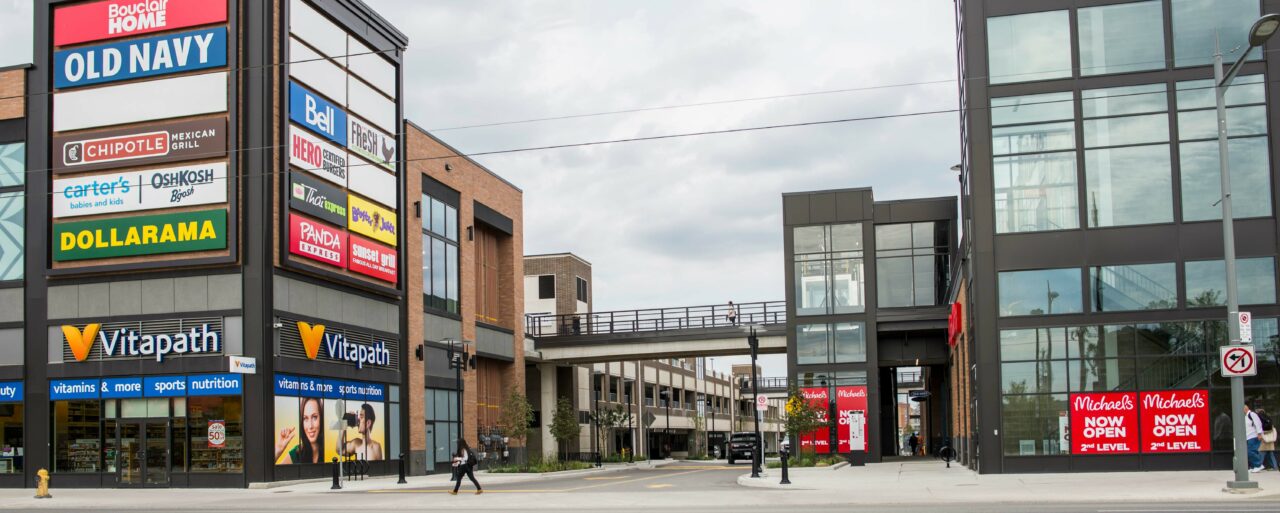 The Project
The Stock Yards Village is a 20-acre property located in The Junction neighbourhood of Toronto. Considered the "Mall of the Future", it opened in 2014 and at the time was the second largest retail development in Canada. A unique urban hybrid retail property with over 554,000 sq. ft. of retail area, twelve multi-level interconnected buildings are complimented by 4,000 sq. ft. of playground and 8,000 sq. ft. of entertainment areas and two centrally located 3 level precast parking garages with 1,854 parking stalls.
The Conversation Pieces
The project was built on a site with substantial grade changes, roughly 30 degrees from the north to the south point of the property. Traugott, through methods, means and materials, brought forward experience in site planning and conversations around pre-cast structures in order to successfully deliver twelve multi-level interconnected buildings. Phased over the two years of construction, Traugott managed client expectations with the implementation of a complex tenant coordination program, that focused on managing the tenants' staggered occupancies.
Project Specs
Project Title:
The Stock Yards Village
Build Size:
554,000 sq. ft.
Description:
20 acres
12 multi-level, interconnected buildings
554,000 sq. ft. of retail
4,000 sq. ft. of playground
8,000 sq. ft. of entertainment
The Challenges
This site was historically most notable as one of Ontario's largest abattoirs. This project was one of the largest construction projects since its original use in 1914. A number of various consultants were engaged to identify excavated objects and manage the specific soil classifications.
The Solutions
The entire site was treated similar to an archeological site in the initial excavation stages, and various contaminants were managed through respiratory systems and protective clothing. During this time, high MSE walls were constructed bordering the municipal roads and walkways to raise the grades necessary for construction.
Work with us on your next project
Contact